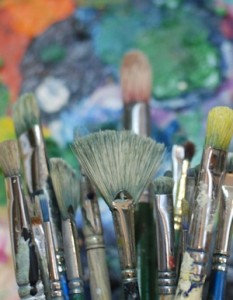 Although I have used acrylic a lot over the past few years I have recently gone back to using oils. I had forgotten just how wonderful they are. It is not just the smell, but somehow the creamy mixture of the paint is more satisfying than acrylics. Yet, I do miss the speed with which acrylics dry, but you can't have everything. Here are a few tips about the use of oil paint that you might find useful.
Always work 'fat on thin'. Thin layers of paint first, particularly for underpainting. This method this will allow the paint to dry completely before thicker layers are applied. It is also a good idea to use a 75% turpentine and 25% linseed oil mixture for the underpainting. You can increase the oil ratio in subsequent layers to about 50%. You may prefer to use other mediums, if so check out their recommendations.
Ivory Black can take a long time to dry so is not a good colour to use for underpainting. In fact, I would suggest you always mix your own 'blacks' by mixing Burnt Umber with a dark blue such as Ultramarine or Phthalo Blue.
Linseed oil can 'yellow' whites over time so it is probably better to use poppy oil for light areas Unfortunately, this dries even slower than linseed oil.
You may find that you have too much oil in the paint. It may have come from the tube like that, or you've added too much oil, therefore wrap the colour in a little newspaper. It will absorb the oil and not affect the colour.
A good way to speed up oil painting is to use a method I use a lot and that is to paint the underpainting in acrylic. This is dry in a matter of minutes and can be over painted with oils. NEVER paint acrylics on top of oil paints, the oil will never dry and in all probability will rot.
Checkout the Basic Drawing Channel to learn basic drawing skills.
Do you enjoy my videos? Become my patron and receive cool rewards in return. Checkout my Patreon site for details.
Want this video in your own language? Check out my video to see how.
For drawing and painting art tutorials designed for beginners – visit my YouTube Channel:
Follow our Facebook Page:
Check out my art history channel: for videos of the lives of famous artists and great paintings
Download Free 'What is Art' Ebook