Is your Still Life drawing looking a bit dull? When you draw a group of objects is it not quite accurate? Perhaps you are a beginner and you are struggling to organise your still life drawing in an imaginative and creative way? Whatever your issue might be you'll find lots of easy drawing tutorials on this still life channel to help your drawing improve.
Our Still Life Tutorials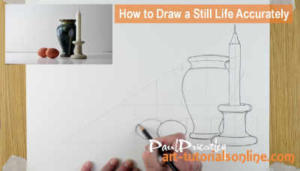 We know it's difficult to start drawing so all our art tutorials online videos are structured for beginners. Our brilliantly inspiring tutor, Paul Priestley will take you through the art tutorial step by step. Paul has 28 years of artistic and teaching experience, so I'm sure you'll find the videos awesome. You'll find art tutorials that cover measuring objects in a still life, and how to draw objects accurately. You'll even find tutorials on how to organise your group for your still life drawing. So if you are interested in drawing groups of objects I'm sure you'll find a tutorial to help you draw a Still Life.
What Drawing Objects is Really All About
We know the importance learning techniques and methods of drawing and painting at Art Tutorials Online. We also know the importance of passion and individuality, because that's what makes art unique. Our art tutorials come with lashings of passion and creativity to help you learn techniques and methods. If you are just starting out on your artistic journey or are a beginner, we hope you find our art tutorials useful. If you do maybe you might recommend our art tutorials to your friends and fellow artists. That would be much appreciated.
With Art Tutorials Online draw a Still Life like the artist you always wanted to be.
8 videos
0 subscribers
44024 views