Basic Drawing Tutorials
Everyone can draw, even the people who like saying, 'I can't draw'. Oh yes they can, because they can learn to draw from an Art Tutorials Online video. Drawing is largely about confidence. Remember no one in the world draws like you do. However, do you wail about your ineptitude, or do you think to yourself, 'Wow, my drawing is unique'? The choice is yours.  All the famous artists started somewhere. With determination and some patience you can learn to draw, if you want to. The same positive approach is adopted in all the drawing tutorials for beginners that you'll find here. Each tutorial is taught brilliantly by Paul Priestley  because he knows absolute beginners can follow a easy simple, step by step approach.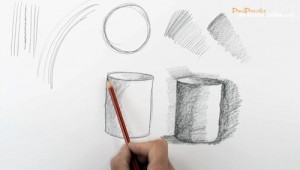 All the basic techniques and methods are covered. You'll find easy drawing tutorials for beginners covering shading, outlines and edges.  One point and two point perspective is covered simply in a series of tutorials, because we know perspective can be a bit difficult to understand. You'll find fascinating drawing tutorials on 'How to Draw with Curves' which explores drawing grasses, flags and even cliffs. There is even an art tutorial on how to compose a picture. I bet you thought composing was something to do with music, but it can also be used in drawing.
Our Easy Drawing Tutorials
At art tutorials online we know the importance  of learning drawing techniques and methods because you are just starting. But we also know the importance of passion and individuality, because that's what makes your art unique. We try to make sure all our art tutorials mix learning techniques with lots of passion and creativity because we care. If you are a beginner, or just starting out on your journey to becoming an artist, we hope you find these easy drawing tutorials  will be useful. So grab your pencil and a piece of paper and start drawing. View one of our brilliant art tutorials. Let our very experienced teacher / artist guide you along on your artistic journey. You will find it a very rewarding experience. Good luck with your drawing and be brilliant.
Become the artist you want to be with Art Tutorials Online
Paul Priestley
Check out our YouTube Channel for more videos.
40 videos
0 subscribers
157377 views